REAL FOOD. FRESH FLAVORS.
At Chevys, we love watching people try our food for the first time. Even if they've never heard of Fresh Mex®, they take one taste, and they just get it. All our food is handcrafted and made from scratch with fresh ingredients. That's the whole idea behind Chevys, where Fresh Mex® is more than just a menu slogan. Everything, and we mean everything, is made from fresh ingredients every day, right in the kitchen.
Our flour tortillas are made from fresh homemade dough on EI Machino® (and all are 100% cholesterol free).
Guacamole is made fresh, never frozen or from packages. We mash thousands of avocados every day.
We have a NO CANS rule in our kitchen. Nada, No Way, Never! We are serious about fresh ingredients.
BRING YOUR FRIENDS & FAMILY.
THE PARTY IS ON US.
Celebrate at Chevys! We have all the Fresh Mex® ingredients to turn your event into a fiesta. Here at Chevys, we have one burning passion: to bring all the best of fresh ingredients from our kitchen to your table. Bring those flavors to your place, or come to ours. We have rooms you can reserve, patios, or semi-private areas. At Chevys, the party's on us. Check out our main menu here.
A SIDE OF MARGARITA, PLEASE.
Come in and try one of our three new featured margaritas. Made with Pura Vida Tequila, La Primera, 3 hombres, and Mextacy, one is sure to be one of your new favorite drinks.
Also, We've got five new delicious tacos on our special taco tasting menu. Come in and try our new braised pork, tropical chicken, Baja shrimp, Baja fish, and spicy steak tacos. Choose any combination of tacos for $9.99 + $1.50 to add rice & beans.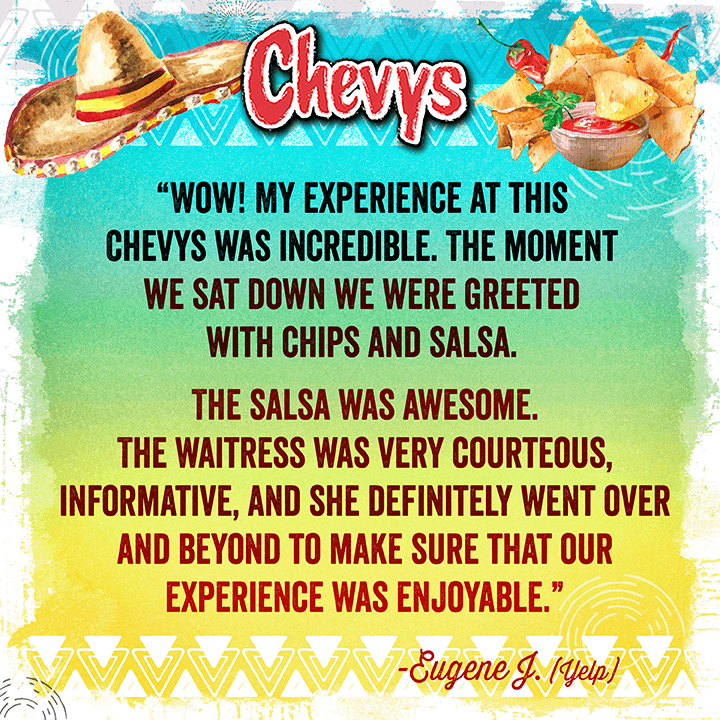 JOIN CHEVYS' E-CLUB
Fill in the information below to receive news, Fresh Mex® specials, and exclusive offers from Chevys.
Chevys Fresh Mex®
April 27, 2017