Visit our Arundel Mills Chevys location at 7000 Arundel Mills Circle R5, Hanover, Maryland. We are in the Arundel Mills Mall near the movie entrance. Check out our menu.
Sunday to Thursday: 11 am – 8 pm
Friday & Saturday: 11 am – 9 pm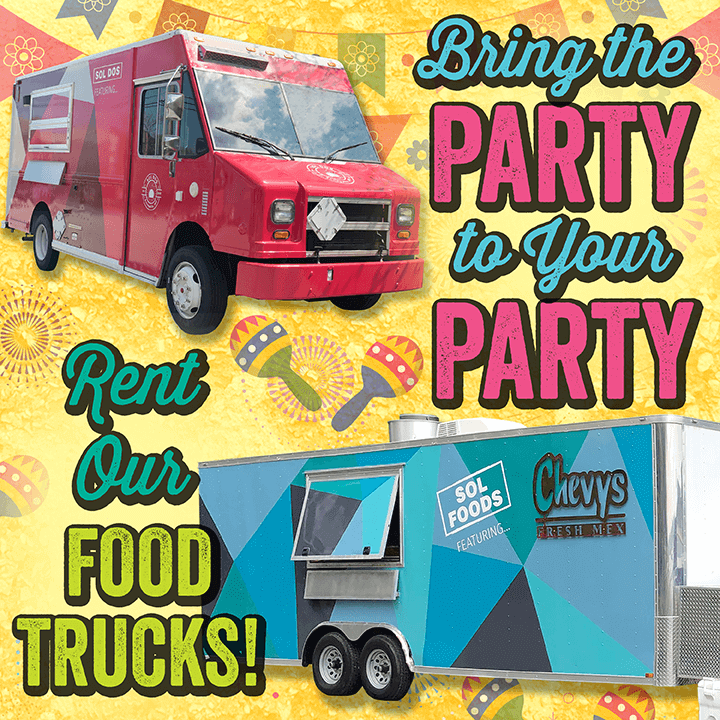 We Are Excited to Introduce Our New Food Truck – Say Hi to Sol Dos!
We Are Excited to Introduce Our New Food Truck You may have noticed, or even seen it out on the town – we have a new food truck! Our second Chevys food truck is called Sol Dos. It's just another great way to bring your favorite Fresh
5 Alternatives to Prom You'll Want to Consider for Your Senior Parties
Senior Week and Prom are often considered a rite of passage for those who are getting ready to graduate High School. In years past, Chevys has participated in many Prom Breakfasts too. Unfortunately, many teens are facing the cancellation of these experiences because of situations beyond their control. Regardless of the barriers, we must celebrate teens and their achievements. Check out some alternatives to prom and other senior year events.
Taco 'Bout Love – The Perfect Taco Toppings at Chevys
When you're craving a taco, it's not just about the perfectly cooked meat or fish, the melty cheese, or the tortilla. (Are you a softie, or do you like yours with a crunch? Either way, you can't go wrong.) The taco toppings bring the experience to another level. In fact, we'd say the toppings are what make or break the dish. With the right toppings, the taco becomes transcendent.