Our Chevys Customers Are Amazing
It would be a misconception to say we got into the restaurant business just for the food. In reality, at least for us, it has always been about the people. Being able to connect through food, atmosphere, and community is important to us at Chevys. That is why this year has been difficult. We've had to lessen interaction, the connection we have with our customers. Still, this year has shown us more than most how amazing our Chevys customers are. Communities throughout Maryland have rallied behind locally-owned restaurants in a way that truly makes us feel blessed. However, there are always those customers, the ones that feel like family, that really make this experience worth-while. For us, that is customers like Jeff and Kendra Liverman.
We Our Chevys Customers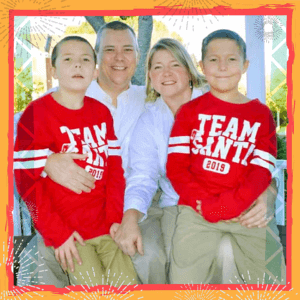 That is why we want to take a moment of your time and tell you a little about the Liverman family and why they mean so much to us. We all have those loyal customers that really make the restaurant business special. People that like your food but love seeing our employees the way they love seeing their family. People like the Livermans help you get through the shift. They ask you questions, they remember what you say, and they care enough to check in again next time (or tomorrow!) These are the people that help our restaurant keep going.
I've known Kendra, Jeff, and the kids for some years now. They have always been there for us with their full support. I've enjoyed getting to know them over the years. They bring a smile to my face each time they come in and the hugs their kids give me mean so much each time I get one. They are the reason we do what we do and get to continue doing it." – Zach Taylor, General Manager
Kendra, Jeff, and their two sons, Brayden and Grayson, have been coming to Chevys Annapolis for over a decade. They aren't just regulars. They are family. We've watched the boys grow up from babies to toddlers, to now 12 and 10, respectively. It has been an honor to celebrate their birthdays with them every year.
We have been to Chevys in California, Florida and to the other Chevys in Maryland, still nothing beats Chevys Annapolis. It is our home away from home. As you know the staff can make or break a restaurant. Chevys Annapolis has always had an incredible staff as well as great food, drinks, music, and atmosphere.

We have had the pleasure of getting to know the managers and the staff (past and present). Most of them have become like a second family to us. Our oldest son has Autism, and he used to cry if we drove past Chevy's and did not stop. They know us so well that we no longer need menus, and some servers even remember what we normally order to eat and drink. When I call in a carry out order, as soon as I say my name, they know exactly who I am." – Kendra Liverman
It's something every restaurant aspires to, connecting with our customers on a different, more personal level. Still, great food does help! We asked Kendra what her favorites were (though, as you could suspect, we kind of already knew the answer).
Our favorite item on the menu for the kids is either Fajita Chicken or Macaroni and Cheese. For my husband and I, we normally order the Pick 2, smothered burrito, the Tostada Salad, Fajitas, the Sampler, or the flautas. Seriously, you cannot go wrong with any of the items on the menu at Chevys. The food is delicious. The mixed drinks are great. The staff is amazing!

I could never say enough about how awesome the staff at Chevys Annapolis is. They always go above and beyond. To most people Disney World is their happy place. Well, for us, Chevys is our happy place. If you have never been to Chevys,
try it, you will not be disappointed." – Kendra Liverman
It's the people like Liverman's that make this year and all the years in the restaurant business so worth it. And it isn't just them. Its customers like the Adams, the Revelles, the Chapmans, the Edwards, the Luckhardts (and more) that make this business feel like we are getting a gift. Not the other way around. So thank you to all the loyal Chevys customers and love our Chevys Family. It means the world to us in good times and definitely during this new shutdown. To our Maryland communities, thank you for your continued support of local small businesses and restaurants. Without you, it would not be possible.