Taco 'Bout Love – The Perfect Taco Toppings at Chevys
When you're craving a taco, it's not just about the perfectly cooked meat or fish, the melty cheese, or the tortilla. (Are you a softie, or do you like yours with a crunch? Either way, you can't go wrong.) The taco toppings bring the experience to another level. In fact, we'd say the toppings are what make or break the dish. With the right toppings, the taco becomes transcendent.
Luckily, at Chevys, we have taco toppings galore – and you can mix and match from our menu, depending on your mood. It's time to talk about this often-underestimated component of the humble-yet-delicious taco. After that, stick around to learn about some new ways to get your Chevys-fix on the go.
Taco Toppings You Need to Try
Did you know, when you order tacos at Chevys, you're not limited by what's printed on the menu? That's right. Say you order the Mesquite-Grilled Tacos – which come with fresh pico de gallo, zingy chipotle aioli, and cotija cheese – but the mango-habanero salsa on the Fresh Fish Fajitas is calling your name? Just ask for a swap! We're happy to make your tacos just the way you want them. Here are some other taco topping ideas for inspiration: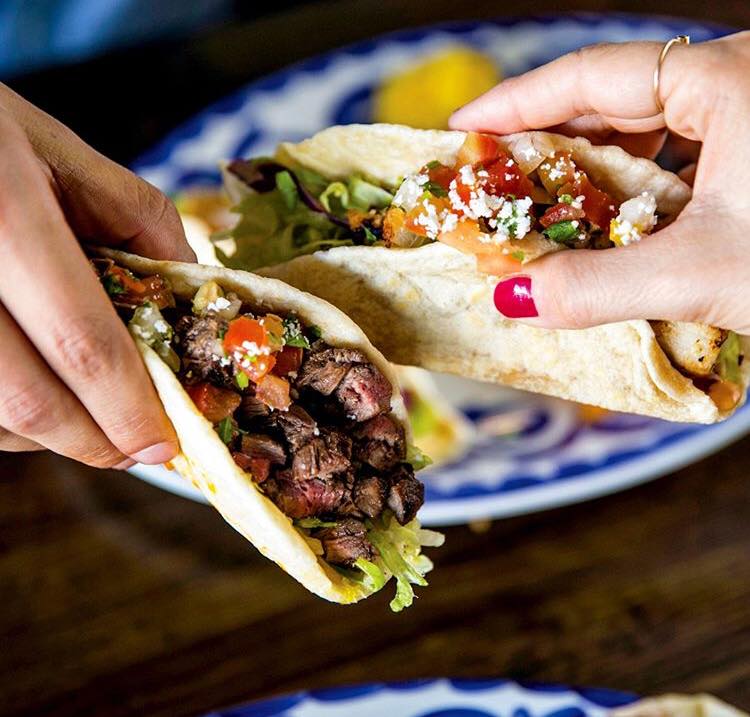 Our fresh tomatillo green sauce would taste incredible on the Mesquite-Grilled Veggie Burrito alongside its veggie medley, cheese trio, black beans, and pico de gallo.
How about some habanero-pesto cream sauce on our Fresh Fish Tacos? Sub for the chipotle aioli, or if you want to get really spicy, request both!
Our famous fire-roasted salsa tastes good on just about anything. Order it on the side to enjoy it with your tortilla chips and slathered on your taco.
Extra guac? Yes, please. Order our Fresh Tableside Guac and use it as the crowning glory to your favorite taco from our menu. We think it tastes terrific paired with our hot salsa as a cool counterpoint.
2 Ways to Enjoy Chevys on the Go
If you need delicious Fresh Mex food beyond the four walls of one of our restaurants, consider our options for ordering on the go.
Curbside Pickup
Craving Chevys Fresh Mex, but can't make it to our dining room? We get it. That's why Chevys is now offering curbside pickup at both of our locations in Annapolis and Arundel Mills. Just head to our online ordering hub, select your location, select "Pickup," and create your order. You'll get to stay in your car with your kids while we bring out your piping hot Fresh Mex. What could be easier?
Visit Our Food Truck (or Rent It for a Special Occasion!)
Chevys' kitchen is mobile! Our food truck regularly makes its way around the Annapolis area and even accepts Apple and Android Pay, so it's simple to grab something tasty from our menu. You can also rent our food truck for special occasions – birthdays, anniversaries, holidays, events, or just for fun. Contact us today for more information.
Get Tasty Tacos Toppings and Fresh Mex at Chevys
We love to see customers getting creative with our menu at Chevys. We're always happy to customize your order, so feel free to play around and mix up your taco toppings. While you're at it, meet us at our food truck or order curbside pickup. We'll see you soon for some great Fresh Mex food.